Got traffic but it doesn't convert? Perhaps, you need to see how your site design can influence conversions.
Let's Learn How to Convert Your Existing Traffic into Better Leads

Drive more leads to your site through high-quality UI and UX design. Updating your site with new pages is a great way to increase traffic but you shouldn't ignore the traffic your site is already getting, even if it isn't producing many high-quality leads yet. Rather than viewing that traffic as a lost cause, focus on making changes to your web design that will convert it into new leads.

After all, designs that convert should always be the focus and as an award-winning agency, quality web design to increase traffic while also converting existing traffic into quality leads is our jam.
We were hired by a mid-sized moving company, and we recently did a facelift for their primary website. Here's how it looks: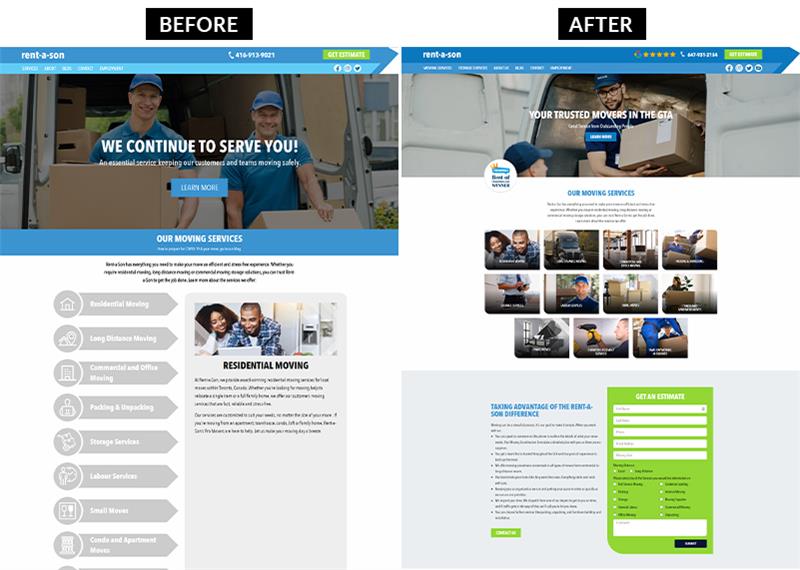 This was based on our data and knowledge of the browsing behaviors, needs, motivation, and mindset of their end consumers.
We also performed conversion optimization and UX/UI enhancements for a new customer with an existing website recently. Here's what it looks like: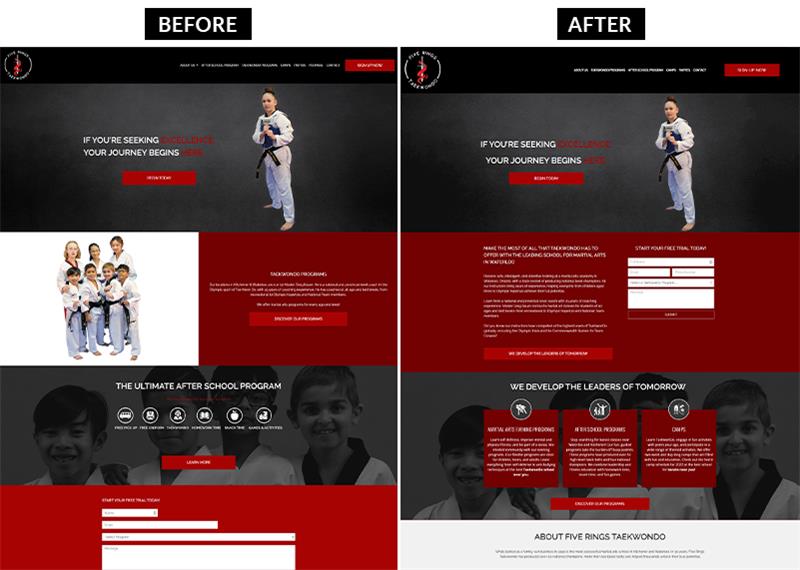 Updating Your "Call to Action" Buttons
Something as small as changing the wording on your CTA buttons has proven to be incredibly effective in promoting leads.
The key is to ensure your potential customers get what they need by clicking on a CTA. Be sure to use something along the lines of "Request a Free Quote."If your business is based on a consultation, then "Let's Talk" is another great option. Perhaps, if your business offers estimates then make it direct – "Get an Estimate."
Be Direct and Keep it Simple.
A well-crafted CTA tells your prospects and customers exactly what they get by clicking that button. People are looking for immediate satisfaction, be sure to inform them of what you can provide before they even need to ask.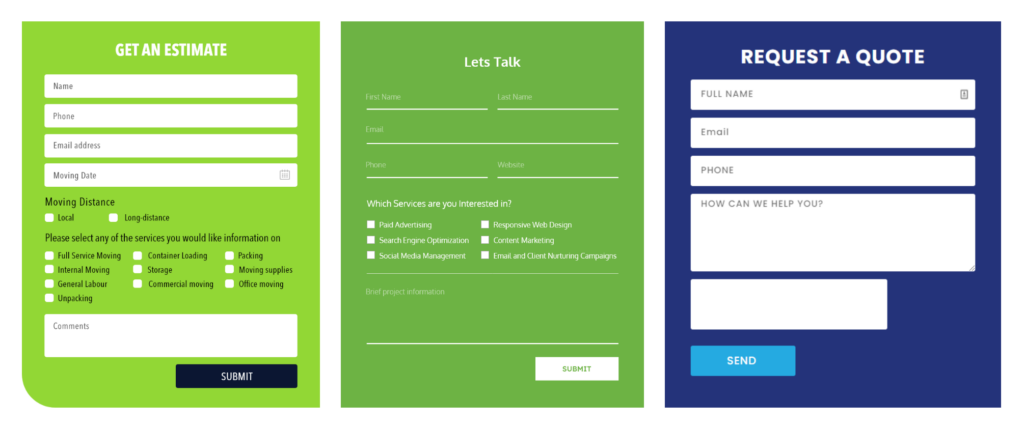 The forms seen here do an excellent job of conveying to the potential customer what they can expect to receive and what information they will need to provide.
Lastly, do not disregard your mobile users.
Did you know that more than 70% of key decision-makers are looking at your website, emails, and landing pages on a mobile device? The chances are your website looks either terrible on a small screen or it's very hard to fill a form or click on a tiny call to action.
This friction can lead to two things:
Potential customers will bounce off to your competitors


Or

2. They will wait to deal with it and visit again when they're back at their desktop or a bigger screen. Chances are if they have not heard of you before, they aren't going to remember you now. You've missed an opportunity.
Ignoring the impact of your user experience can lead to a non-optimization of marketing dollars and potential business.
So, let's get you started on balancing the needs of generating new leads, or better yet, converting existing traffic.
Measure Marketing is working to improve lead generation through UX and UI design for businesses across the US and Canada. Looking to redesign your web presence and convert more traffic or generate new traffic? We are here to help!