Keeping your website design fresh and modern is an important part of establishing your brand's credibility. In today's digital world user experience is key, and you want to ensure your visitors can navigate your site easily.
If your website looks old and out dated, visitors to your site may get the impression that your company isn't up-to-date with current industry trends.
We recently redesigned BookkeepingForGTA's website to create a user-friendly and attractive layout that visitors will find appealing and will encourage them to engage with the company. If you're considering redesigning your website, check out the changes we made to give BookkeepingForGTA's website a new and improved look.
Modernize Your Website's Theme

Updating the design and colour scheme of Bookkeeping for GTA's website gave the company a more professional and modern appearance. Given the number of people who use mobile devices to browse the internet, it's important to have a responsive website that allows visitors to browse your site on their smartphone or tablet. If your website isn't responsive, visitors on mobile devices will likely click away, and that means lost potential business. A good responsive website displays the most important information visitors need front-and-centre on the homepage. This strategic approach makes it easy for visitors to find what they want, and it increases the site's search engine optimization.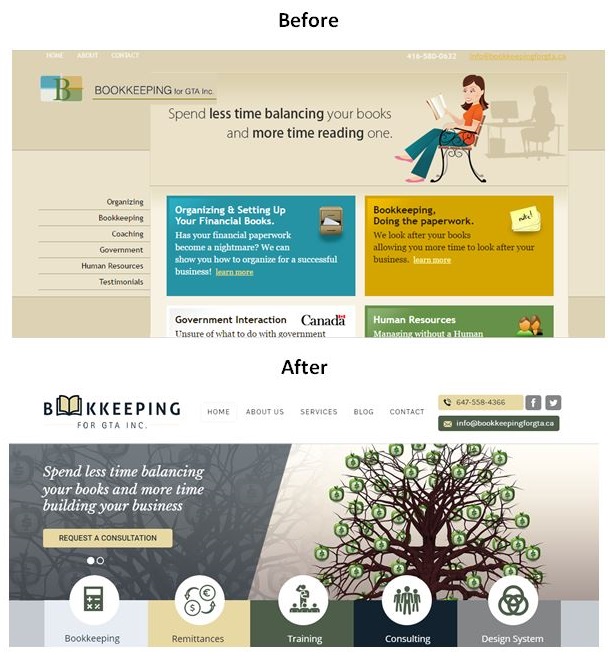 Clarify Your Message and Contact Information
Bookkeeping for GTA's original message was: "Spend Less Time Balancing Your Books and More Time Reading One." That slogan doesn't make it clear how the company's bookkeeping services can help other businesses be successful. We changed their slogan to: "Spend Less Time Balancing Your Books and More Time Building Your Business." This makes the benefits of Bookkeeping for GTA's services clearer to business owners visiting the site. We also moved the contact information to the top of the page and made it more visible, and added social media links. Remember, potential customers, aren't going to comb through your website looking for more information about how your service benefits them and how to contact you. If the information isn't readily available, they'll simply click away.
Make Navigation Easier
The navigation bar on the original site wasn't large or visible enough. We put the navigation links front-and-centre by moving them to the top of the page, adding attractive and eye-catching images, and making the text larger. Now visitors are encouraged to click through the site and learn more about Bookkeeping for GTA's services. If the navigation links on your website aren't immediately noticeable and inviting, chances are visitors will just click away without further exploring your site.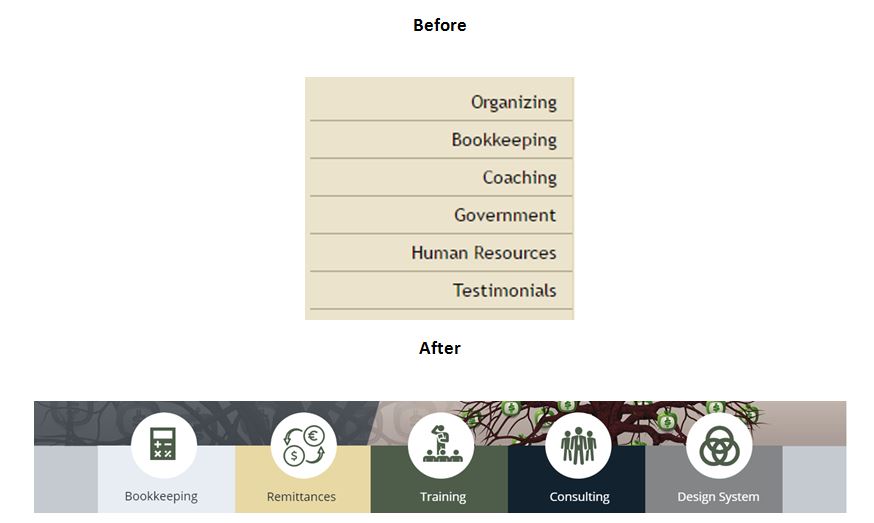 Reduce Clutter and Make Text Easier to Read
The original site had too many text boxes centred on the homepage, and the basic formatting and small font didn't entice visitors to click and read more. The updated site is easier to scroll through, and the larger font size and images accompanying the three text blocks on the homepage will catch the visitor's attention. Testimonials and a blog have also been added to the homepage text blocks to increase credibility and interest. It's important to properly space text blocks and not include too much text on the homepage to ensure visitors aren't overwhelmed by clutter.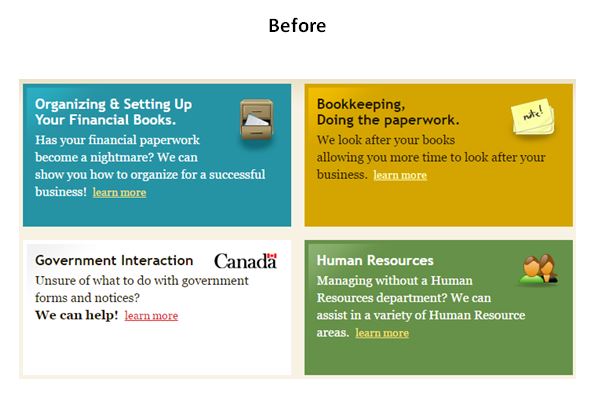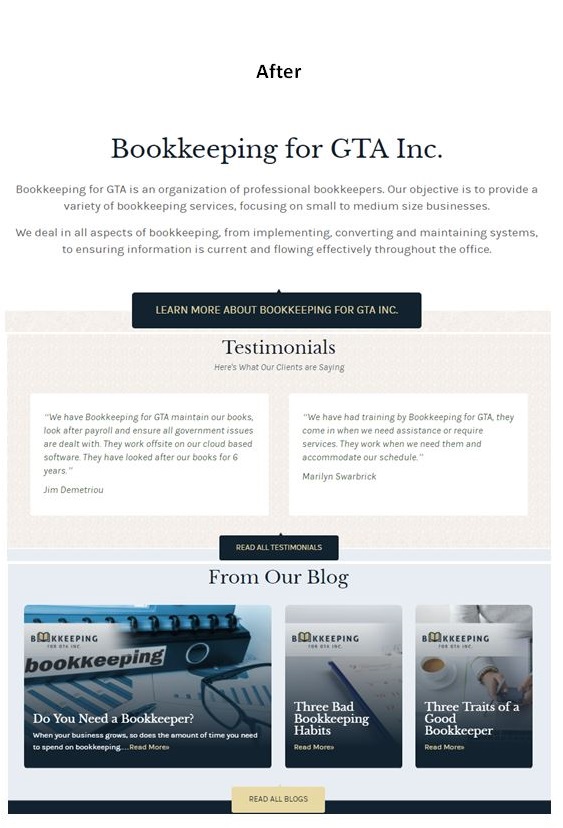 Add a Clear Next Step
A key feature the Bookkeeping for GTA website was missing was a call-to-action (CTA) to direct visitors on what step to take next in their buyer's journey. The new site features a clear and highly visible CTA on the homepage through the addition of a "Request a Consultation" button. A clear CTA is one of the most important features on any website. Your visitors won't have the patience to click around your site, looking for a way to learn more or contact you!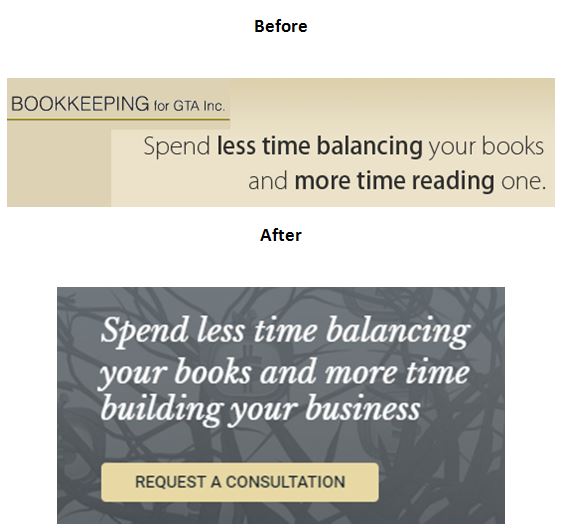 If you want a modern, attractive, and easy-to-navigate, and SEO friendly website for your company, contact the expert website designers at Measure Marketing. Our team of UX/UI designers have the skills and expertise to create a website that perfectly matches your brand's identity, and encourages visitors to stay and click around your site to learn more about your company. Connect with us today for a free consultation and find out how we can make your website look better, attract more leads, and convert them into paying customers.