It's no secret that TikTok is one of the most successful social media apps in recent memory. In fact, it's the most downloaded app of all time with well over 3.5 billion to date (and still counting). This makes it a prime target for marketing opportunities and businesses have started to notice.
B2C marketers are using TikTok to great success, but what about B2B? How do we get our foot in the door and use this platform to grow our businesses? The best way to market on the platform is to understand it first.
What is TikTok?
Starting in 2015 under the name Musical.ly, this app has grown into a juggernaut of marketing potential. It is essentially a short-form video-sharing app with a curated feed to give each user a customized experience. There isn't much of a rhyme or reason to the type of content that is posted to TikTok. Whether people want to share educational videos, promotional clips, funny experiences, dance moves, recipes, product tutorials, costumes, or cat videos, all of it and more can be found on TikTok.
TikTok allows users to employ a wide variety of "sounds" (audio tracks that include music, quotes from movies/tv shows, and original audio from other users), as well as filters and video effects. This allows for a lot of trend potential as the heavy lifting is done. A sound may begin to trend, and you will be able to use that sound to advertise your business and be introduced to a wider audience.
Viral marketing is shifting. A decade ago, we saw more "social" media and now we see more media than social. This is an amazing example of digital transformation and the evolution of age-old marketing techniques.
Who's on TikTok?
It's a common misconception that TikTok is only for kids and teens. While the largest demographic is people under the age of 19, according to Statista, they only account for about 25% of the app's active users.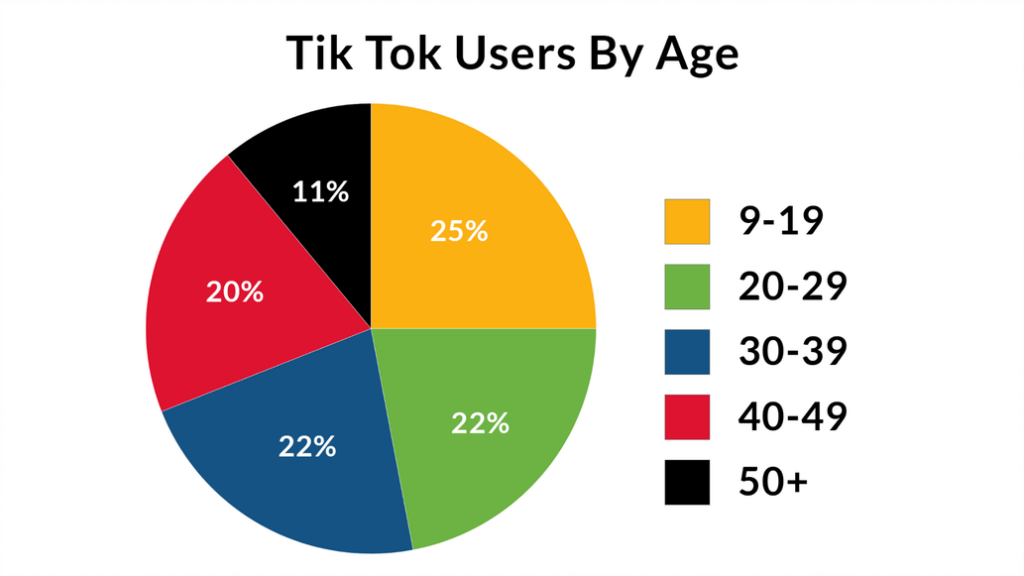 It's also important to note that, in 2021, most app downloads came from women (about 61%).
From 2019 to 2020 TikTok users in North America nearly doubled from 55 million to 105 million. North America is the second-largest collection of users with South-East Asia in first place having 198 million active users in 2020. There's also a substantial increase from Latin America who increased 6.4 times their amount in 2019 (10 million to 64 million).
What Analytics Does TikTok Offer?
Like other social media platforms, TikTok provides analytics to certain "pro accounts." By setting this up, you'll be able to view the number of followers you have, how many times your profile has been viewed, and how many views your videos have received.
You'll also have access to statistics on your followers so you can see different breakdowns in the activity time, gender, and location of your viewers. Using this information is important as it will help you tailor your marketing techniques to potential clients.
How Do You Market with TikTok?
As TikTok is a video-based platform, you can use this feature to show off some impressive, trendy, humorous, or informative demonstrations of your product or services. Consider coupling it with trendy sounds or filters for additional exposure.
Giving your potential customers access to relevant and helpful information is one of the key ways to nurture your relationship with them. With TikTok, you can do this in an engaging and humorous way. Take a look at the video below from Max Cohen for an example.
Product Launches by Creating Trends and Following Trends
TikTok is a major hub for trends. The potential of going viral has creators sharing their original videos and sounds around the clock. Every so often, you'll recognize a video format or sound being used multiple times by different users. This is your opportunity to create a video incorporating that trend into your business.
If you are a business serving a business or a business serving individual customers, this is one trend you'll want to embrace. We love an inside scoop and behind-the-scenes videos are ideal for education as well as for making viewers feel like they're getting something exclusive. Ontario, California-based Logan's Candies gained five and a half million followers by posting TikToks showing how their sweets get made – it's truly a mesmerizing process. @Loganscandies does it well. Check them out below!
TikTok is all about engagement. Creating videos and sharing content that promotes you, your team, and your business serves to humanize your brand. You can build on this through regular posting, non-scripted (or seemingly non-scripted) content, and making sure to include yourself (or a team member) in the content you promote.
Influencers have a lot of power these days. Research influencers in your field and try to find one with a following that is as close as possible to your ideal customer. You can send them your product or a trial of your service for their review which they will then share with their followers. (modafinil online pakistan)
There are many different types of paid advertising options on TikTok. We'll break them down here:
1. Spark Ads
Utilize your brand's organic content by promoting a post from your channel or the channel of an influencer who has authorized it. This means you will be boosting a video that stays on your actual feed and garners engagement for your channel directly.
2. TopView Ads
These are ads that take over the phone users' screens for a brief period to display video. These ads are effective in driving engagement if you can capture the attention of the user quickly enough. They can also include CTA buttons.
3. Branded Effects
You can create and share branded stickers and filters for you and other users to add to videos. This helps with increasing brand recognition and giving your brand a modern feel.
4. In-Feed Ads
These ads appear the same as other content on TikTok (showing up in a user's "for you" feed). You can use this to generate engagement and stay top of mind with your audience.
TikTok vs. YouTube
Recently there was a whole lot of talk around TikTok being able to outshine YouTube. There's no doubt that TikTok has experienced major growth over the years and has cemented itself as competition for some of the biggest visual media sites, YouTube included.
Insider Intelligence predicts that "US TikTok users will spend more time with the social media platform this year than YouTube users will spend on YouTube. This difference will be just about a fraction of a minute but will expand in years to come."They also predict that TikTok's ad revenue will begin to surpass YouTube's in 2024.
This doesn't necessarily mean every marketer should switch directly from YouTube to TikTok though. It's important to stay informed about which platform has a stronger concentration of your ideal customers and act accordingly.
The Future of TikTok and Advertising
As with many social media platforms, effective marketing strategies will need to grow and change with the app to stay relevant. It's important to stay up to date on all information regarding your marketing platforms. It's unclear how TikTok will change for marketers in the future but working with an experienced marketing agency like Measure Marketing is an excellent way to stay ensure your business is always up to date. Contact us to get started today!