Keyword research is one of the most important & crucial parts of your SEO and Paid advertising strategy. Without the right keywords, it's impossible for you to serve the right content, to the right audience, at the right phase in their buyer's journey. Using a keyword research tool is part of the recipe to choosing the right keyword, as the right tool will make the process faster, easier and more effective.
Now the question is which keyword research tool is best for you, and your business model? In this blog, we will discuss a few keyword research tools, which can give you the insights necessary to help figure out the right keywords for the right audience and business.
1. Google Keyword Planner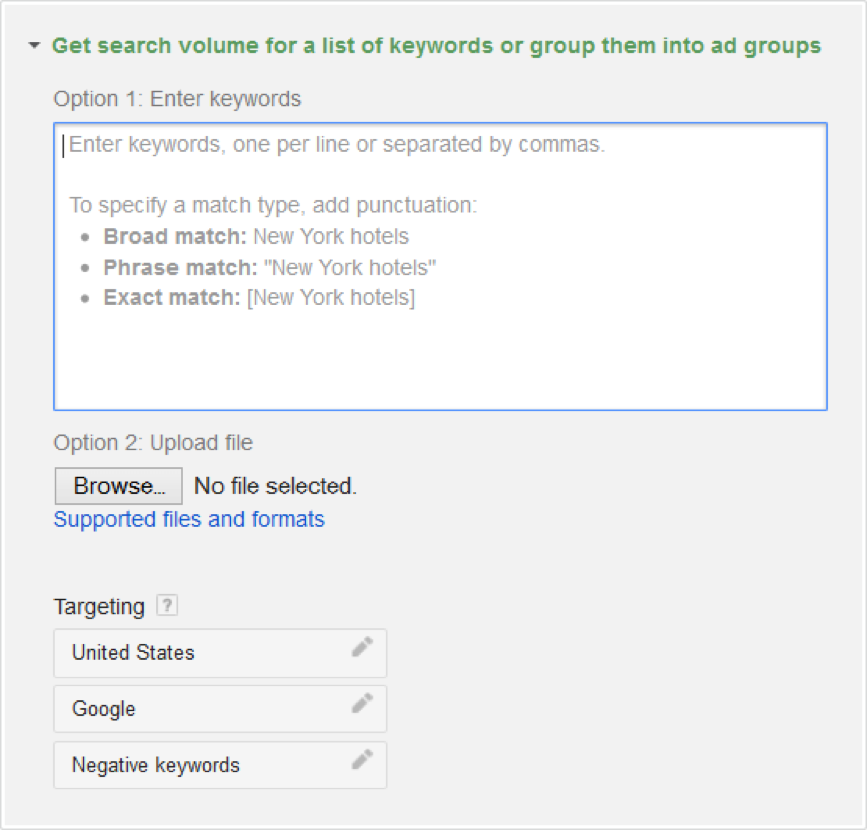 Google Keyword Planner tool is one of the most widely used keyword research tools.  It is known to be one of the best platforms to begin keyword research. One reason for Google Keyword Planner's popularity is that it's free and directly linked with Google Adwords.
Some major features of Google Adwords:
Directly search for Keywords along with Ad groups.
Filter option allows you to extract more specific keywords
Allows you the option of adding negative keywords to avoid unwanted keywords
You can view monthly search volume along with the suggested bid
Gives out the most relative keywords automatically
2. Moz's Keyword Explorer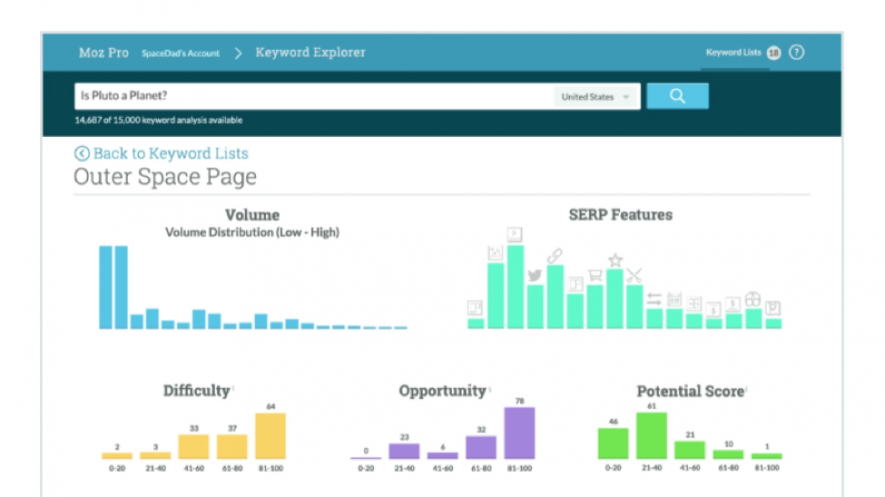 In 2016 Moz introduced a new keyword research tool name "Keyword Explorer" that offers additional features for keyword research.
In addition to difficulty and volume, Keyword Explorer offers the following features:
Relative CTR of the organic results on a SERP (Search Engine Results Page)
Determining how important a keyword is to your campaign.
You can get the combination of all keyword metrics that can help you prioritize which keywords to focus on first
If you have a list of suggested keywords, then you can upload them to Keyword Explorer to get more keyword options and then start prioritizing them. Keyword Explorer will help you forecast your SEO strategy beyond keyword research
3. KWFinder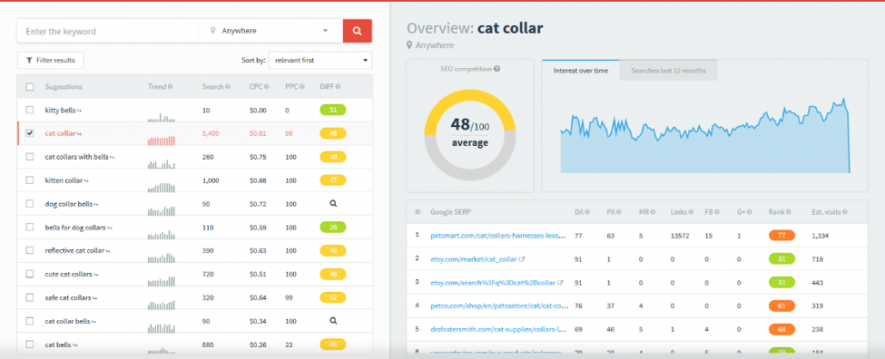 KWFinder is completely focused on keyword research. KWFinder is one of the fastest growing SEO tools.  KWFinder offers both free & paid plans for the users.  However, to see the effectiveness of the tool you can start with the free versions available.
Here are some highlights of the features within KWFinder:
KWFinder is a long tail keyword research tool with a user-friendly interface.
KWFinder shows you the search volume, trends, CPC, and difficulty level in the results.
It is helpful when you must find local keywords so that you can target your search results by specific city, state or country.
4. Keyword Tool
Keyword Tool is an excellent keyword research tool for keywords data mining by using Google Auto-complete data to create its database of long tail keywords.  You can use the tool for the first 750 keywords. And for next set of data such as search volume, CPC on Adwords and competition you need to sign up for the pro version.
Few major features of Keyword Tool are:
Keyword Tool helps you find long tail keywords for Bing, Amazon, Youtube, and App Store.
Here you can find terms that are related to your business domain and customized content on your website.
Keyword Tool will help you to find long-tail keywords associated with any topic by automatically generating Google's search suggestions.
I recommend picking one or two of the above-mentioned tools, test them out; get used to the system, understand what they can offer and how you will use the data they provide you to maximize keywords use and to help you deliver the best results for your content-driven marketing campaign.
If you are a beginner at keyword research, we suggest that first; you focus on using the Google Keyword Planner tool, which will help increase your confidence.  Google keyword planner tool is easy to use and provides you with all the information you need to make informed decisions. Although this is a free tool, it provides in-depth analysis of monthly search volume, low or high competition, and monthly bid just to name a few.  This tool is most common, user-friendly, and widely used by professionals globally.