If you are reading this article, chances are that you've done a fair amount of research into SEO, why it is important and what it can do for your website. Whether you are tackling SEO on your own or working with an SEO consultant to boost leads for your Toronto area business, understanding all the online elements that can help you grow your business will only help you achieve your results that much faster.
SEO experts talk a lot about using keywords, unique and valuable content to drive your website traffic. But let's back up a bit and spend some time talking about the architecture of your website and how it can impact your SEO.
To start, let's take a look at the difference between sub domains and sub directories.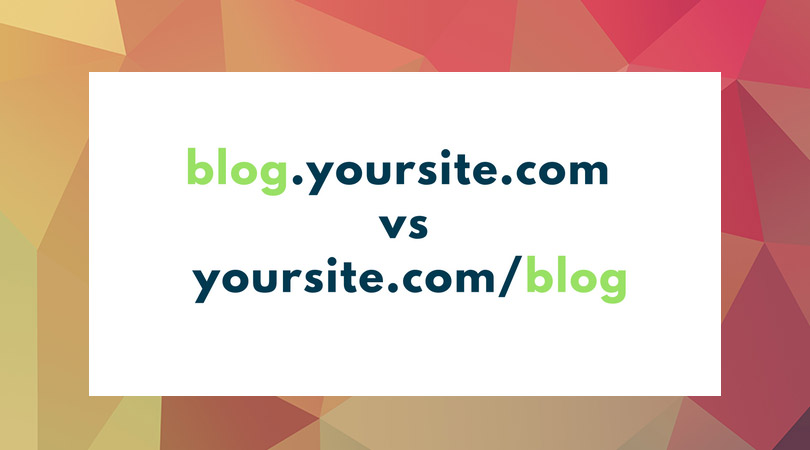 When To Use Sub Domains vs. Sub Directories
Sub Domains
If you choose to set your website up using sub domains, your URLs will look like this – subdomain.domain.com.
Setting up your website in this way tells both Google and website visitors that the contents in the sub domain is separate from the contents of the rest of your site. Typical uses for sub domains are:
Websites where the blog is separate from the rest of the web content so it resides in its own sub domain
Websites with forums are also frequently separated onto a sub domain
Having sub domain pages when offering products or services in several different languages
Franchise businesses use sub domains to separate franchisee sites
Sub Directories
Unlike sub domains that precede the domain name, sub directories follow it so that your URLs look like this – domain.com/subdirectory.
Sub directories are set up like folders meaning each sub directory is like a folder that is nested as part of your main domain. It is easier to set up a website using sub directories, a big factor in why it remains the more commonly used method.
Google has stated that it doesn't matter which architecture type you choose but there are still many SEO experts out there that have their own opinion on the matter! Overall, the general consensus is that using sub directories is more beneficial when it comes to boosting your SEO efforts. But as always, the truth lies in the details.
As mentioned above, using sub domains is trickier, which means you really have to have a higher level understanding on how to build a website and how to properly create sub domains that will still rank well with Google. As such, many people using sub domains may feel that their SEO efforts aren't being recognized, but the problem could more so be related to HOW they set up the sub domains as part of the website in the first place.
Making The Right Choice For SEO
So, which website architecture is right for your website? It really comes down to what and how your website will be used. The best advice we can give is to connect with a reputable SEO company, like Measure MarketingTM, and get expert help so that you make the right decision. Creating a website for your business is really important so take the time to do it right the first time.
Whether you choose sub domains or sub directories doesn't really matter. What does matters is getting a well-built website that fits the needs of YOUR business and then working with an SEO expert to build and publish brilliant content. After all, no matter how your website was built, without an SEO strategy and frequently published valuable content, your website will not rank!
Realistically, the problem that most organizations have is not that they're losing SEO value and traffic because of how their website was built but because they don't have any or enough brilliant content. Thankfully, building quality content is not a difficult task, and one that can be make much simpler with the help of the right marketing agency – there is no reason you have to try and do it all on your own! Request a complimentary consultation with Measure MarketingTM and let's get building the right SEO strategy to maximize your results.