The poised, graceful, super smart, and talented Yamini Rangan kicked off the spotlight session to 60,000 marketing professionals attending both in-person and virtually.
Disconnection in the Digital World
Rangan, HubSpot's CEO, is concerned about the digital world's increasing lack of connection and we couldn't agree more. She's found the number one pain point for businesses after the pandemic is disconnected systems and data. This leads to gaps in collected data, meaning businesses are struggling to offer personalized experiences. The customer experience, in general, is declining. There is too much time spent attempting to clean data rather than connect with customers. Her solution is to rely on each other and increase our connections.
She outlines her solution through the familiar flywheel concept which involves attracting, engaging, and delighting customers. The flywheel is frozen, too much friction has built up and businesses and customers are suffering from it. Rangan takes this time to offer a solution by using the flywheel to address the marketing problems of today:
Attract – Third-party cookies will lose support from google in 2024. This means first-party data will become even more valuable than it already was. Showing up early and collecting this data now is imperative to maintaining strong connections with your customers in the future.
Engage – Open rates for emails aren't guaranteed, they're earned. You need to offer something incredibly valuable and specific to your potential or existing customers. This includes high-quality data, an opportunity to interact with experts, tools/resources, and engaging videos. It's also important to bring context to your conversations. This is a "breath of fresh air" for prospects according to Rangan. (Cialis)
Delight – Buying needs to be a breeze for your customers. Rangan offers the example of Amazon as a company that generated massive success through streamlining its purchasing processes. Other options for encouraging delight include offering your customers choices in how they interact with your company. Email is alive and well but options like SMS and texting are thriving. Be convenient for your consumer.
Discovering what, exactly, is holding back growth has been Rangan's number one focus and her leadership and navigation through these discoveries have our respect!
Disconnects to Connects
Disconnected systems and data are the outcomes of companies needing to go virtual overnight. Today, the plethora of SaaS-based tools has overcrowded the space, and companies continue to throw money into tech with disjointed efforts.
HubSpot has been observing the behaviours, demands, and needs of companies and as a result, has been working behind the scenes on "connection."
The message of connection from the INBOUND spotlight rockstars Yamini Rangan, Stephanie Cuthbertson, and Dharmesh Shah couldn't be more relevant. The HubSpot team has been working together to reverse the disconnection through:
Connected Platform and Applications
Connected Community
"Connected Customer"
A Digital Road Map for Marketers
Stephanie Cuthbertson talked about the numbers HubSpot is seeing emerge after a recent survey, the overall Global economy is under pressure, revenue growth across is down and so is ad effectiveness. The companies are lost just like travellers before Google Maps. But today, incredible algorithms have optimized the path and HubSpot is continually coming forward to better their CRM to create a connected platform and applications, call unified that allows teams throughout the organization to come together to serve the core which is the customer.
Marketing fatigue and privacy changes are changing marketing and how marketers report.
HubSpot's marketing hub's "Marketing Campaigns" section allows you to get a consolidated view of all your omnichannel strategies.
Having one view for all campaigns and unified team collaboration with the calendar view allows marketing leaders to report in a manner that will give CEOs much-needed data. They can use this to reinvest more in the marketing campaigns as now they know what's working without diving into a whole plethora of tools.
Rich attribution reporting (see photo below) allows you to customize and report on the entire flywheel journey.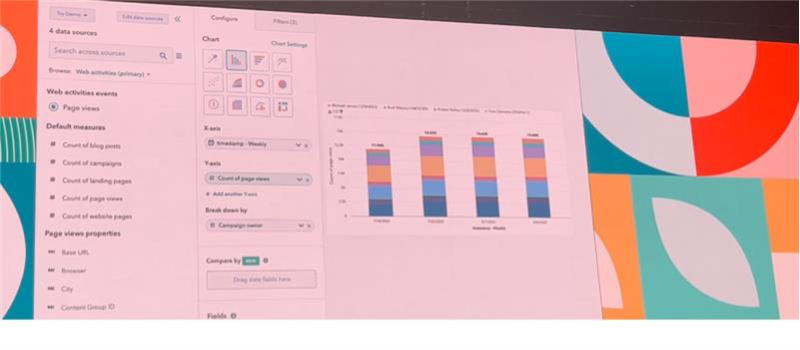 Kudos to the entire product team! The organization has done deeper work on product evolution with a roadmap and a framework to overcome the disconnection and create efficiencies and effectiveness with the platform. This allows companies to better their processes and better their engagement with their customers. The belief in HubSpot as a platform and as a partner is strengthened with the product roadmap that was shared by Stephanie on the connected customer platform evolution.
From UI extensions to custom cards, an Overview tab, team-based views, and more,
the world-class platform continues to put efforts into truly creating a connected customer experience.
The price of disconnection is further discussed in co-founder Dharmesh Shah's presentation where he talked about growth and growing better by connecting the dots with the community building efforts. He shared the vision Brian Halligan and he had and it was no surprise to see how they have to build a community by focussing on GROW-mance (Not Bro-mance – Dharmesh and his dad jokes as we all know! And he is allowed three in each presentation as per his contract).
Yes, Grow-mance – to grow companies.
Their passion and vision led to building a community and an event that was beyond what I had envisioned.
Committed to growing together, the announcement of connect.com was the highlight. The open community is where, as a marketer, you want to go!
We'd love to know your thoughts on INBOUND so far, so engage with us on our socials (LinkedIn, Instagram, Facebook) and continue the conversation! Or if you're eager to learn more, stay tuned for our next report from INBOUND!